K-Style Gutter
 Size: 5″ seamless (residential) and 6″ seamless (large residential/commercial)
Materials: Aluminum, Steel, and Copper
Rectangular Downspout
Size: 2×3″ (residential) Materials: Aluminum, Steel, and Copper
Size: 3×4″ (residential/commercial) Materials: Aluminum, Steel, and Copper
Size: 4×5″ (commercial/industrial) Materials: Aluminum
Half-Round Gutter
Size: 5″ sectional (residential) and 6″ sectional (large residential/commercial)
Materials: Steal and Copper
Round Smooth/Corrugated Downspout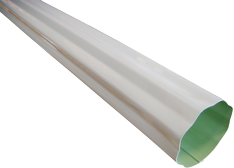 Size 3″ (residential) and 4″ (residential/commercial)
Materials: Aluminum, Steel, and Copper
The Difference Between 5″ and 6″ Rain Gutters
The main difference between 5 and 6 inch gutters is that 5 inch gutters are typically used on residential homes and small businesses, while 6 inch gutters are used on larger homes, commercial buildings, pole sheds/barns and garages.
5 inch gutters can handle just about any amount of water that typically drains off of smaller roofs.  2×3 inch downspouts are usually paired with 5" gutters, but in some cases that require more water drainage, 3×4 inch downspouts may be used.
Larger roofs that drain large amounts of water require a gutter system that can catch and drain the water more quickly.  Therefore, 6 inch rain gutters are used in these situations, which typically occur with larger homes, commercial buildings, garages, and barns/sheds.  Paired with 3×4 inch downspouts, 6" gutters are able to displace large amounts of water quickly and effectively.
Inspection and Installation
Bobbitt's Seamless Gutters takes great pride and care in all of our installations.  To prevent any surprises during the installation process, we begin our installation with a conscientious inspection of eaves, fascia boards and soffits.  In addition, our seamless 5 and 6 inch rain gutters are machined on site, thus avoiding the risk of breaking and scratching during shipping. Installed with heavy-duty hidden hanger brackets, our gutters and downspouts can be affixed to any type of roof or building structure.